Guide
[Last update: 01/06/2019]
Introduction
1010Food is a platform created to provide restaurants all the digital capabilities without any technical knowledge. Our goal is to help restaurants create a seamless online-merged-offline experience to enhance their business by providing them all the software tools they need for supply management, operational software to marketing tools.
Our Ecosystem
Under 1010Food we provide 3 main products:
Customer Mobile Web App
Business Admin Panel
Cloud Point-Of-Sales System

1010Food Marketing Platform
Introduction
1010food is an information & servicing platform created for F&B businesses to gain exposure and provide self servicing tools for their customers. Each business will have their own profile page to display their info such as menu, promotions, rewards, social media and etc. All the information can be managed by the business themself via our Business Admin Panel anytime anywhere.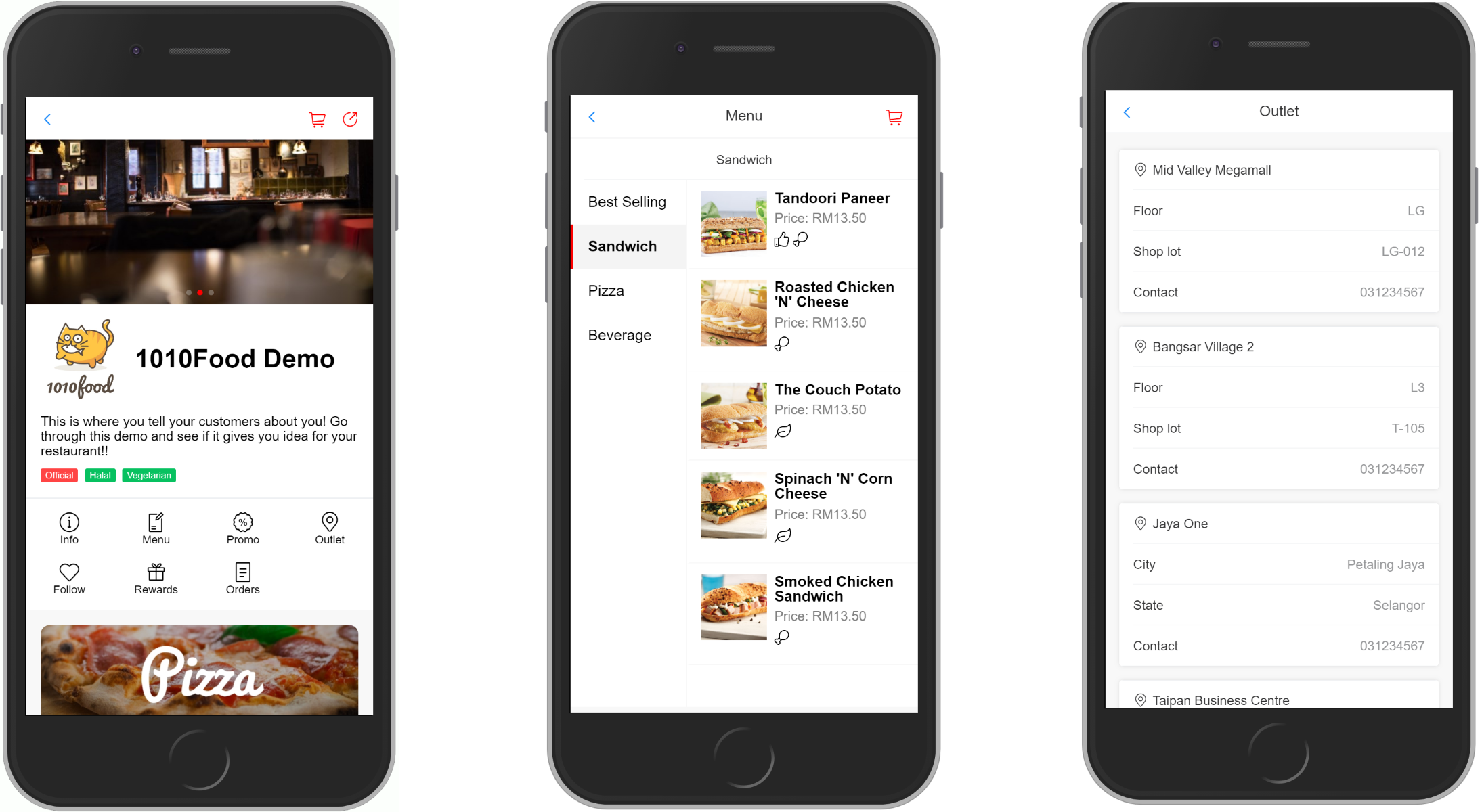 Getting Started
1010Food is always free for businesses to use. Sign up at now and start creating your own profile.
Cloud POS System
Introduction
1010Food provides an afforadable & feature-rich cloud POS system designed for F&B businesses. System is compatible with all Windows operating system hence can be used with any regular PCs or laptop.
How are we different from other POS system?
One simple & afforable pricing to use all features and future updates
Integrated with 1010Food mobile web app that allow customers to place order via their mobile phone
Integrated with 1010Food to create digital presence on the internet
Getting Started
New Subscription
Please contact us at marketing@shopsavee.com or WhatsApp 0107887403 to schedule a demo. Subscribed business will be provided user login to POS system.
Printer setup
Using System on 1010Food Terminal
All required system is pre-installed. Terminal can be used out of the box.
Using System on Own Terminal
This setup is for businesses using 1010Food POS system on their own PCs or laptop.
Install 1010Food custom QZ Tray Printer software. Download here
Install thermal printer driver (Only for thermal printer provided by 1010food). Download here
Run QZ Tray Printer prior using 1010Food POS. QZ Tray printer will show a green icon in your Windows icon tray once it is run successfully. For convenience, you can set QZ Tray Printer to start automatically.
In POS setting > Order, select connected thermal printer to print order confirmation / kitchen order
In POS setting > Receipt, select connected thermal printer to print receipt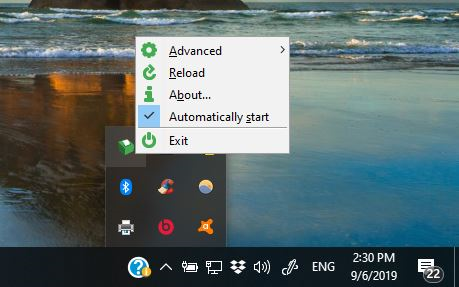 Branch Management
Features:
Manage branch info
Manage branch users
Manage branch users
Add/Remove user
Grant user as admin (Non admin user cannot access setting)
Floor & Table Management
Add/Remove new floor
Edit floor to access table management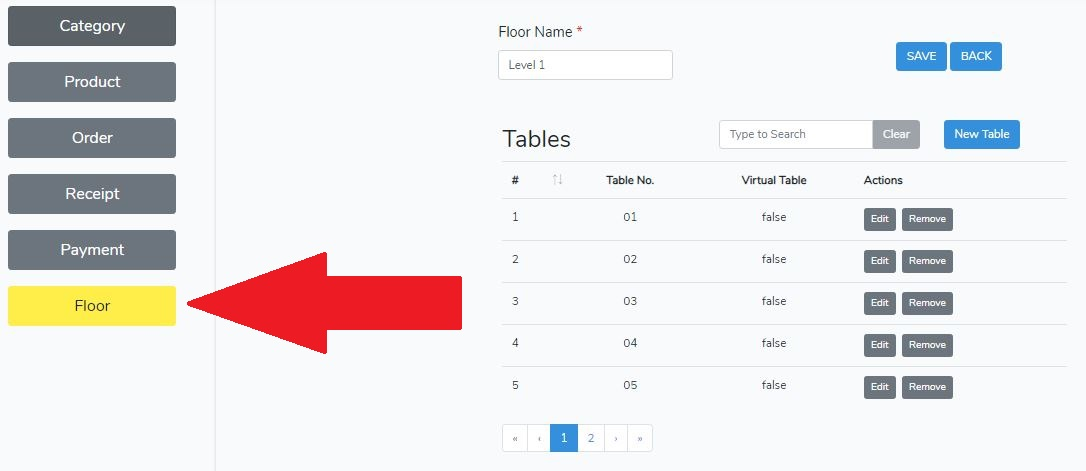 Category Management
Add/Edit/Remove new category

Product Management
Each product is must defined with at least 1 variation and optional add on(s).
When Is add on enabled, the product is set as set as add on and able to be attached to other product. The item can also be add to order individually.
Variation are used for product that have different food sizes (small, medium, big) or type (chicken, fish, beef, etc..)
Each product must have at least 1 variation
Add on are products attached to the main product. Only product that enabled Is add on toggle can be attached.
Remark is short message that can be included during order. Example: Less sugar, less ice, no meat, etc..

Order Management
Order management is the main operation page for businessess, it is used to record orders for tables. To place orders, a table must be activated. Activated table will be highlighted.

Click on any table to activate or enter the main order page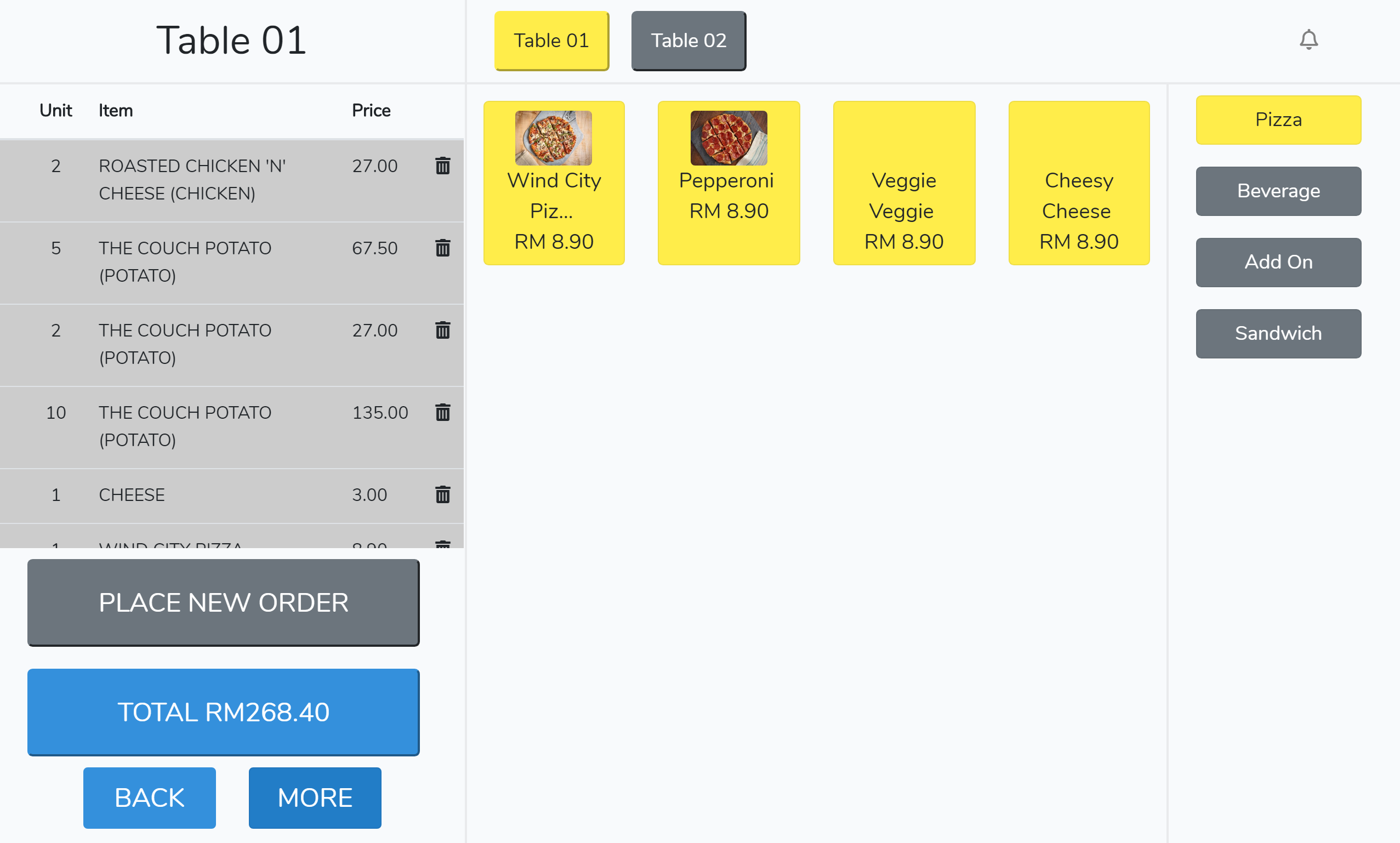 The top of order page we can find the name of selected table and other currently active table for easy switching.
Notification button on the top right will display notifications when new orders placed by customers using their mobile phone.
Order Workflow
Click on product to select quantity, variation, add on and remark. User can add multiple product before confirm order.
After confirm product added, click Place New Order button to confirm order.
Confirming order will trigger the printing of order confirmation slip and kitchen order slip.
Payment Workflow
Click on the Total RMXXX button.
User can select payment method, apply discount.
Key in the total amount paid by customers.
Press Confirm & Print Receipt button to deactivate table and print receipt.
Other feature
Join Table - Merge the order of two tables
Change Table - Move all orders to a different table
Print Order - Reprint order confirmation slip for any selected order
De-active - Delete all orders and deactivate table
Deactivating a table will lose record of all orders placed for that table
Dine-in Mobile Ordering
Integrating with 1010food platform, dine-in customers able to place order using their mobile phone. Each activited table will trigger printing of unique QR code for customers to place orders.
QR code will invalid once the table is deactivated.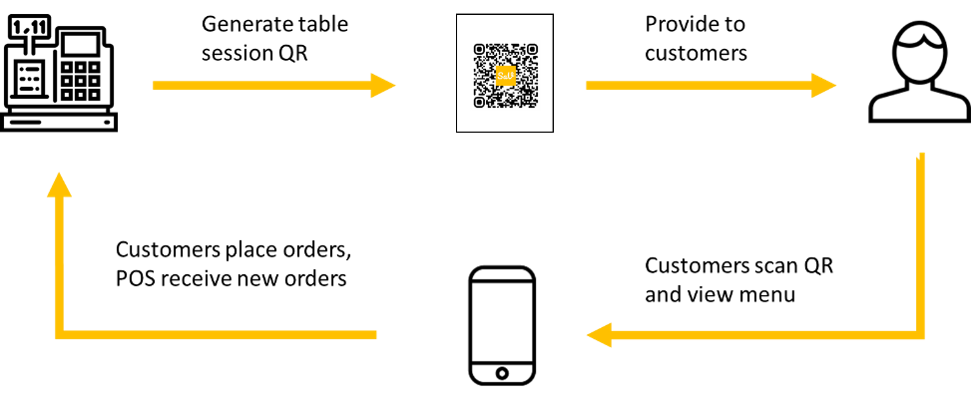 To enable this feature, user must
Link POS system to your 1010Food business account. This can only be done by 1010Food team, please contact your account manager or contact us at marketing@shopsavee.com
Sync your product info to 1010Food web app using our Business Admin Panel.
Order & Printing Management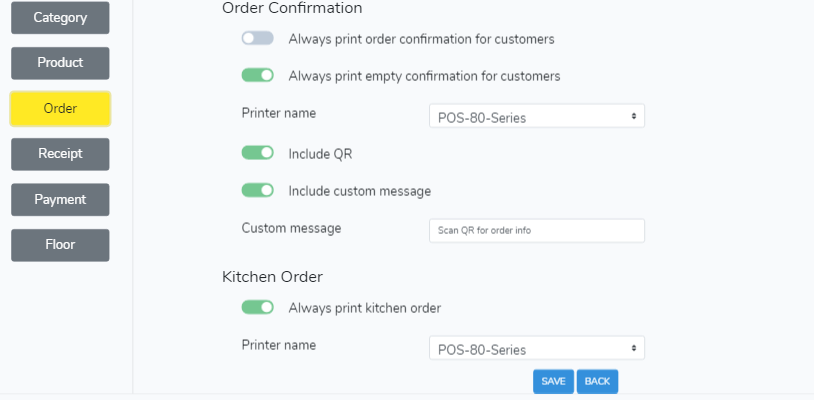 Always print order confirmation for customers - This will enable the printing of order confirmation slip for every order placed
Always print empty confirmation for customers - This will enable the printing of QR for mobile order once a table is activated
Always print kitchen order - This will enable the printing of kitchen order slip for each order. This slip will contain the table name, ordered item and quantity. All items placed in the same order will be printed in a single slip.
Kitchen order can be printing in a separate thermal printer setup wirelessly
Receipt & Printing Management
QR in Receipt
When user scan QR code in receipt, they will access a e-receipt that can be share or download as PDF. Also, user able to claim rewards based on the total receipt amount or access your 1010Food profile page.

Payment Management
Page to setup percentages for tax and service charge.
Add payment method for tracking purpose.
Inventory Management
Coming soon